Welcome!
Roswitha – a new musical
Kevin Bleau – Music and Lyrics
David Schrag – Book and Lyrics
Without leaving this site, you can listen to this recently orchestrated version of "Stories" featuring vocalist Patricia Noonan.
…and this audio highlight reel.
Note: roswithamusical.com is now the official site for all new information on Roswitha.  Please click the link and visit our site.  Thanks!
This link will take you directly to the individual songs.
(Older information on Roswitha follows…)
Kevin and his collaborator David Schrag have been hard at work on their new musical, Roswitha, about the first female playwright, a Medieval German nun.  On this page, you can experience some of our work in reverse chronological order (most recent to way back in 2015).  To start with, here are some demo recordings from January, 2018.
"Hail The Happy Couple" – Roswitha, Roswitha's Father, Count Ludolph, and ensemble
"Lower the Drawbridge" – Roswitha
(Chant) – Nuns
Singers (Berklee undergrads): Roswitha-Grace Stephenson, Roswitha's Father/Count Ludolph-Justin Reeves, Ensemble-Grace Stephenson, Elaine Kline, Savannah Smith, Samantha Marsh, Nina Baumer, Noah Lee, Justin Reeves
Instrumentalists: Almira Izumchensky, Piano (Berklee undergrad), Jeri Sykes, Soprano Sax (Berklee faculty)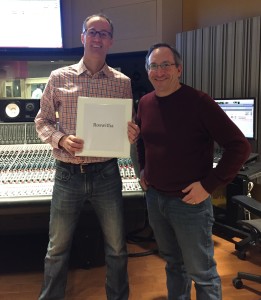 Here is a performance of Act 1 in Berklee's David Friend Recital Hall on March 6, 2017.  It's quite out of date at this point, but some of the material is still in the show.
Cast (in order of appearance): Magnatrude-Stephanie Carlin, Gisela-Alexandra Veltri, Clotilde-Rhys Conklin, Adaltrude-Sharon Brown, Frida-Madeline Gerhardt, Hildegarde-Jessica Fadullon, Ingitrude-Rae Forbes. Tutor-Paul Giragos. Nurse-Lily Lord. Roswitha-Katherine Fuller. Albrecht-William Eastland. Gerberga-Ana Guigui. Irena-Lily Lord. Urban-Paul Giragos
Instrumentalists: Piano – Kevin Bleau, Soprano Saxophone – Lihi Haruvi
To watch "The Story" as performed at Berklee on Monday, Oct 24, 2016, click the link below and you will be taken to "ustream."  Our performance begins about 37 minutes into the video.
"The Story" begins at around 37 minutes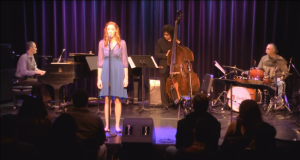 Below is a playlist of demo songs (old version) recorded in May, 2016.  A brief narration before each song introduces characters and summarizes pertinent story developments between songs.  A link to a "bonus" video is available at the very bottom of the page.  Enjoy!
CAST
Nicole Vander Laan (Roswitha)     Caitlin Gjerdrum (Gerbera)     Bradford Gleim (Albrecht)                       Quiana Holmes (Irena)    Kevin Bleau (Urban)
The Nuns of Gandersheim Abbey: Alexandra Vetri, Krystina Lyons, Caitlin Gjerdrum, Jessica Fadullon, Stephanie Carlin, Helena Ochs, Grace Stephenson, Jacklyn Riha, Rhys Conklin, Natasha Torres, Rebecca Fisher, Elaine Kline
PIANO ACCOMPANISTS: Kevin Bleau and John Kramer
In The Abbey – "the making of" video.